Bangladesh got its first transgender news reader on international women's day. 29 years old Tashnuva Anan Shishir, a rights activist and has previously worked with NGOs supporting transgender people and migrants, is now bangladesh's first transgender news reader. The 29 year old read her first three-minute daily news bulletin for a private television channel on Monday, International Women's Day.
Shishir debuted on air on March 8, presenting the news bulletin for Boishakhi TV. She said on air that this step could be revolutionary and create a new dimension in people's thinking about the transgender community. Ms Sashir was selected for the job in audition, and several weeks' intensive training finally set her ready for the new role. Through this step she hopes to change how the community is perceived in the country.
According to government estimates there are about 11,500 transgender people in Bangladesh, but LGBTQ rights campaigners say the true figure is likely to be much more than that. In Bangladesh,  the transgender community faces  discrimination and violence and are often forced to live by begging, the sex trade or crime. It was in  2013, when Bangladesh's government allowed trans people to identify as a separate gender and in  2018, they were allowed to register to vote as a third gender.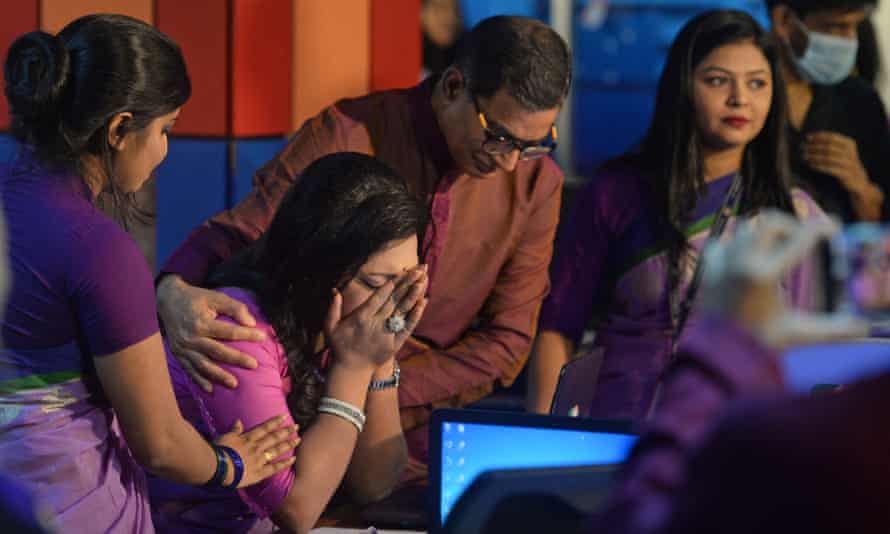 Tashunva's journey has been a difficult one, but she never gave up, and her firm determination of moving forward has earned her this position. She left her home at the age of 13 and continued her education. In January, she became the first transgender person to pursue a master's in public health at the James P Grant School of Public Health in Dhaka. In a country where transgender community still have to face stereotypes and discrimination, her step is an inspiration to others. She told BBC that she was angry as a child that she was not an "ordinary boy or girl" now she is proud to be a pioneer in the LGBT community. Ms Tashnuva realised in her early teens that she was transgender and has face "mental torture" as well as sexual harassment.
This year she had signed two movies and previously also she was active in theatre and drama.
Anan approached a number of TV stations to ask for work, but said that only private station Boishakhi was "brave enough to take me in". According to the AFP news agency, A spokesman for Boishakhi TV, said it was a "historic step" and that the channel was determined to give her a chance despite the risk of backlash from some viewers. However, she is not the first transgender presenter in the region. In 2018, Pakistan Marvia Malik anchored her first show on private broadcaster Kohenoor and became first transgender to do so in Pakistan. while in India Padmini Prakash became the first transgender person to present a daily news show in 2014.