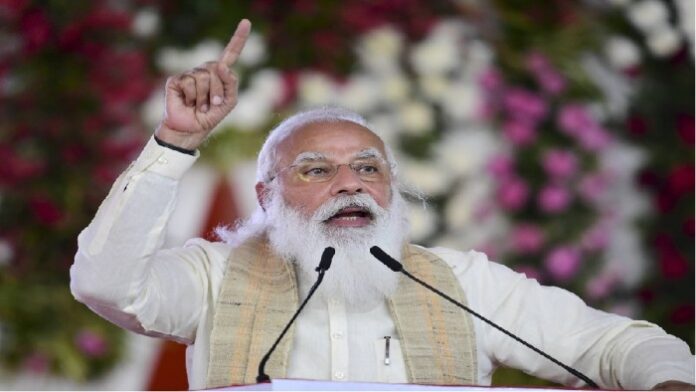 Prime minister Narendra Modi flagged off the Dandi March or Salt March, today in Ahmedabad. Mahatma Gandhi's historic Dandi march is being re-enacted to celebrate the 75th anniversary of India's Independence. 90 years ago on 12th March a nonviolent civil disobedience movement, known as Dandi March or Salt Satyagraha, was led by Mahatma Gandhi Dandi against the salt monopoly of the British colonial rulers. The celebration began from today, March 12, by marking the anniversary of Mahatma Gandhi's Salt Satyagraha. It also marks 75 weeks till Independence Day 2022.
The march from the Sabarmati Ashram in Ahmedabad to Dandi in Navsari is a 241 miles long route. A group of 81 people would complete the entire 21-day long commemorative 'Dandi March' and the march would be joined by different groups of people along the way. On the occasion PM Modi tweeted: "12th March is a special day in India's glorious history. On that day in 1930, the iconic Dandi March led by Mahatma Gandhi began…from Sabarmati Ashram we will commence Azadi Ka Amrut Mahotsav, to mark 75 years since Independence." through his tweet he has encouraged "people from all sections of society" to participate in the Padyatra today.
In a statement, Gujarat's chief minister Vijay Rupani informed that on the way the marchers will halt at 21 places to attend a variety of events. The events will highlight the socio-economic changes which are taking place in the field of cleanliness, environment, security and water conversation. Nearly 70 Gujarat government ministers, along with other party office-bearers will lead the celebrations at the various venues. Salt Satyagraha was a turning point in India's freedom movement. Political leaders and people from all sections of society have been paying tribute to Mahatma Gandhi and tweeting about his Salt Satyagraha. The event marks the beginning of a 75-week long celebration before Independence Day next year. The government has constituted a National Committee chaired by PM Modi with 259 members. The committee is formed to formulate programmes for the "commemoration of 75th anniversary of the Indian independence at the national and international level".