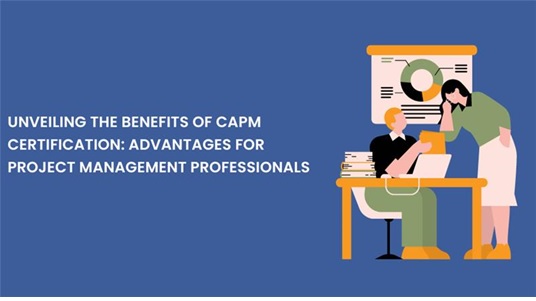 The CAPM Training program, which stands for Certified Associate in Project Management Training, is a specialized course that aims to provide individuals with the necessary knowledge and skills to succeed in the field of project management. It is based on the principles of the CAPM certification, which is globally recognised and highly valued in the project management industry. There are numerous Benefits of CAPM Certification for professionals seeking to advance their project management careers.
Table of contents
Benefits of CAPM Certification
Enhanced Employability
Global Recognition and Credibility
Expanded Career Opportunities
Improved Project Performance
Professional Networking and Collaboration
Professional Development and Continuous Learning
Career Opportunities after CAPM Certification
Conclusion
Benefits of CAPM Certification
The benefits of CAPM (Certified Associate in Project Management) certification are numerous and can significantly impact the career trajectory of project management professionals. Here are some key advantages:
Enhanced Employability
CAPM certification enhances your employability by validating your project management knowledge and skills. It demonstrates to employers that you have a solid foundation in project management principles and can contribute effectively to project teams.
Global Recognition and Credibility
The Project Management Institute (PMI) offers the well-known CAPM certification, which is recognized worldwide. It is respected and valued by organisations worldwide, providing you with a credential that holds weight in different industries and geographical locations.
Expanded Career Opportunities
Earning a CAPM certification can expand your career options in project management. It serves as an entry point for professionals looking to enter the field or transition to project management roles. CAPM-certified professionals can explore positions such as project coordinator, project analyst, or associate project manager.
Improved Project Performance
CAPM certification equips you with a comprehensive understanding of project management processes, tools, and techniques. This knowledge enables you to contribute to the successful planning, execution, monitoring, and control of projects. By applying best practices, you can enhance project performance, deliver projects on time and within budget, and mitigate risks effectively.
Professional Networking and Collaboration
As a CAPM-certified professional, you gain access to a vast network of project management practitioners and industry experts. This network provides opportunities for collaboration, knowledge sharing, and career growth. Engaging with fellow CAPM-certified individuals and participating in PMI events and communities can expand your professional connections and keep you updated with the latest trends in project management.
Professional Development and Continuous Learning
CAPM certification requires ongoing professional development to maintain your credential. This commitment to continuous learning ensures that you stay abreast of evolving project management practices and industry standards. It helps you acquire new skills, stay relevant in the field, and demonstrates your dedication to professional growth.
Career Opportunities after CAPM Certification
By earning a CAPM (Certified Associate in Project Management) certification, project management professionals can expand their career options in various industries. This certification serves as a valuable stepping stone and can propel individuals towards successful and fulfilling careers in project management. Here are some of the key career opportunities that become available after obtaining CAPM certification:
Project Coordinator/Project Administrator
CAPM certification provides a solid foundation in project management principles, making it an ideal qualification for entry-level positions such as project coordinator or project administrator. These roles involve supporting project managers in planning, organising, and coordinating project activities, ensuring smooth project execution.
Associate Project Manager
CAPM certification is highly regarded by employers when hiring for associate project manager positions. This role involves taking on greater responsibilities in managing projects, such as overseeing project teams, monitoring project progress, and assisting in project planning and risk management
Project Analyst
CAPM certification equips professionals with the skills to analyse projecdata, prepare reports, and assist in project decision-making. Project analysts play a crucial role in project performance analysis, resource allocation, and ensuring projects adhere to budget and timelines.
Junior Project Manager
CAPM certification can be a stepping stone towards becoming a junior project manager. This role involves taking ownership of smaller-scale projects and leading project teams under the guidance of senior project managers. CAPM certification provides the necessary knowledge and skills to successfully handle project planning, execution, and monitoring tasks.
Project Scheduler
CAPM certification covers essential project scheduling techniques, making it a valuable qualification for individuals aspiring to become project schedulers. These professionals are responsible for developing project schedules, tracking progress, and ensuring that project timelines are met. CAPM-certified project schedulers play a critical role in optimising project resource allocation and ensuring efficient project delivery.
Project Management Office (PMO) Roles
CAPM certification is highly regarded in PMO environments. PMOs are responsible for standardising project management practices, providing governance, and supporting project managers. CAPM-certified professionals can contribute to PMO functions such as project portfolio management, project documentation, and process improvement initiatives.
Specialised Project Management Roles
CAPM certification lays the foundation for individuals to pursue specialised project management roles such as risk manager, quality manager, or procurement manager. These positions require in-depth knowledge of specific project management areas, and CAPM certification serves as a starting point for building expertise in these domains.
Conclusion
Enrolling in Project Management Courses can significantly enhance your prospects as a project management professional. The CAPM certification, in particular, is a globally recognized credential that offers numerous advantages. Obtaining this certification can boost your chances of getting hired, increase the types of jobs available to you, and prove your proficiency in project management. Professionals can enhance their careers and showcase their dedication to project management excellence by acquiring CAPM certification.