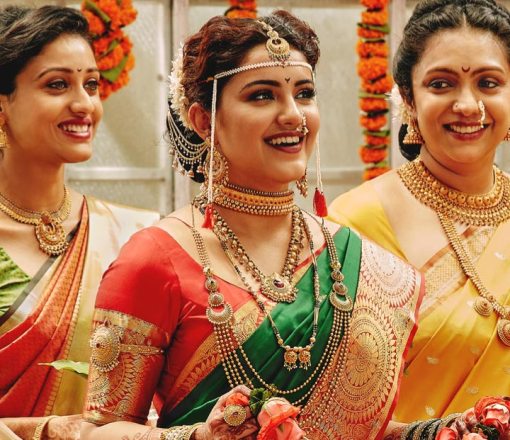 As we all know that a Mangalsutra holds a very special place in every Indian bride's heart. There are many states in India and every state has its traditional attire for marriage. They have different ornaments specially designed for the bride, but the Mangal sutra is the most sacred one. Let us explore more about this beautiful piece of jewellery.
It is a belief in Indian culture, that the sacred thread made of black and gold beads, is to be worn by the Indian bride after her marriage. This is tied by the groom in the bride's neck while performing the wedding rituals. After the "saat feras" the groom ties this in the bride's neck in front of the whole family, while the priest performs important chants. The mangalsutra is traditional gold jewellery that you will find with every married woman. You travel from North to South; you will find various rituals in an Indian wedding ceremony along with different types of attire, gold jewellery, and mangalsutra.
The gold mangalsutras are called with different names like Thaali, minnu, dehjoor, etc. In this article, let us deeply explore the different names of gold managlsutras of India.
Types of Mangalsutras from North India
Bollywood has started this trend of flaunting different types of beautiful mangal sutras these days. These designs are worn in North India. The mangal sutras of different north Indian communities are:
Marwari & Gujarati: The pattern is almost the same for both communities. Their gold mangalsutra has a string of black beads with a diamond-studded pendant.
Kashmiri: They wear "Dehjoor" which is the same as the Hindu mangal sutra. It is an almond-sized ornament dangled through both the ears either by a golden chain or colored thread up to the chest.
Sindhi: They wear gold mangalsutra with black and gold beaded chains.
Types of Mangalsutras from South India
Tamilnadu -Thaali: It is pronounced as "Thaa-Lee" or Thaaly. It is generally worn with a gold chain, or a yellow thread ("Manja Kayiru") bring by the groom's family. Generally, it is made of 22k or 18k gold.
Kerala Mangalsutras – Minnu & Thaali: Minnu is an auspicious wedding thread, same as mangal sutra in the North, used by Syrian Christians. Thaali is used by Kerala Hindus also known as "Ela Thaali". Ela means leaf, so, Ela Thaali is designed in leaf shape on which sometimes an Om symbol is imposed.
Maharashtra Mangalsutra – Watimani: It is also made of black and gold beads with two bowl-shaped pendants on either side known as wati/vati. Hence, it is called watimani mangalsutra. These are hollow from one side. It represents the holy union of shiv and shakti. Every Maharashtrian jewellery box of a Marathi bride will have this beautiful piece of ornament in it.
Karnataka Mangalsutra: The Kannadigas call it "Maangalya-sutra". It is very similar to the Maharashtrian mangalsutra as it is also made of two hollow vatis. It is made of two round golden plates along with corals, freshwater pearls, semi-precious stones, and black stones/beads.