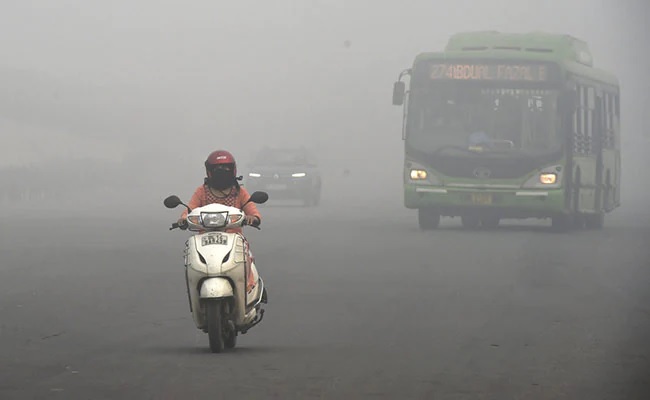 Due to the increasing pollution in Delhi-NCR, the situation continues to be worrying. In view of this, the Delhi government has closed its government offices and schools for the time being. The Commission for Air Quality Management (CAQM) issued a list of instructions late on Tuesday night to close public and private schools, colleges and educational institutions till further orders. According to the instructions, the entry of all trucks in Delhi has been banned till November 21. CAQM has banned all construction work in NCR except railways, metro, airport and national security till November 21.
The level of AQI in different areas has been recorded as serious only at 8 am on November 17. According to the latest data of aqicn.org, Delhi's Anand Vihar 460, Wazirpur 448, Jahangirpuri 448, Alipur 426, Narela 466, Rohini 410, Bawana 350, Haryana's Faridabad 419, Charkhi Dadri 436, Hisar 261, Kurukshetra 200 has been recorded. Similarly, 461 in Vasundhara in Ghaziabad district of Uttar Pradesh, 503 in Loni, 461 in Knowledge Park-3, Greater Noida, 653 in Knowledge Park-5, 355 in Baghpat, 429 in Meerut, 365 in Moradabad, 264 in Lucknow and 201 have been recorded in Kanpur. The AQI level was recorded at 230 in Patna, Bihar in the morning.
Let us tell you that the Supreme Court has expressed its concern over the increasing pollution of Delhi-NCR. On November 13, in this case, the Supreme Court had suggested the option of two-day lockdown in Delhi. After this, government offices including schools and colleges in Delhi have been closed. During the hearing held on Monday, the Supreme Court reprimanded the Center and the Delhi government and asked that it should be told what steps they have taken to stop pollution.
On Monday itself, the court had directed Delhi and the Center to call an emergency meeting. The court said that a meeting should be held keeping all the states of NCR and Punjab together and the information about the decision taken in it should be given to the court. The matter is to be heard in the Supreme Court on Wednesday (today). In this, the Delhi government and the Center will inform the court about the decisions. The court had said during the last hearing that in addition to the lockdown, it had also suggested options like stopping vehicles, shutting down industries.
However, in the meeting held with the CQM on Tuesday, it was said from the Delhi side that the lockdown is not successful until it is implemented uniformly in the entire NCR. Delhi Minister Gopal Rai says that all private offices should also be instructed to work from home.