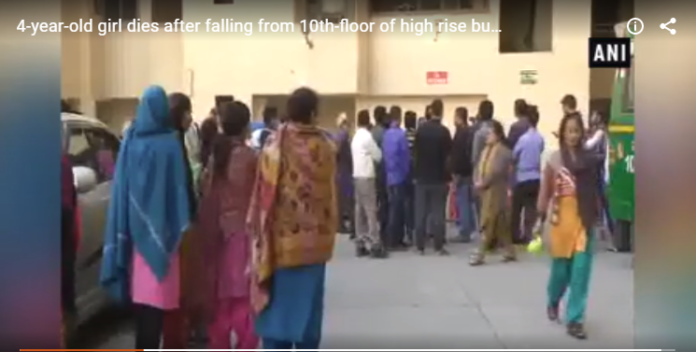 This news is from the Jaipuria Sunrise Green Society located at Non-Hindus section 1 of Indirapuram, this girl has fallen off the 10th floor. The incident happened Monday evening at 5.45 minutes. At that time, the child was sleeping in the bedroom alone at home. Residents have been quite convinced since this incident.
Manish Sachdev lives in the flat number F 1001 on the 10th floor of society. He does a job in private company. This incident happened at that time when there was nobody in the house alone in the house, her mother Neha Beauty Parlor had gone while her elder daughter had been fairy tuitions. When the baby's sleep started in the evening, she could not see anything in the house. On this, he reached the balcony. He got up in the chair and stood in front of the balcony and looked at the park. Then his foot slipped and he fell straight down.
Only after listening to his scream, the guard of the society ran towards the spot. And contacting Manish and Neha gave the information about the accident. With the help of the neighbors, the girl, Myra, was taken to a nearby hospital where doctors declared her dead.