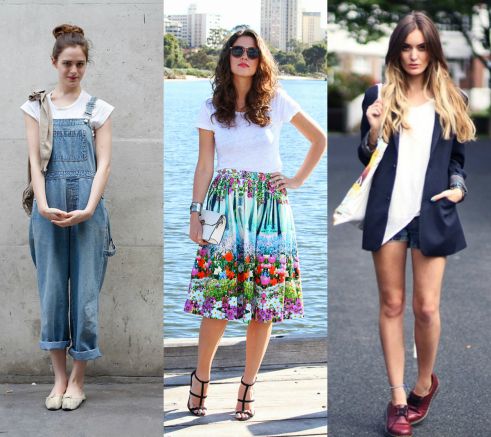 T-shirts are the most important part of our closet. They are a very good option if you want to wear something comfortable and give people a cool vibe. You can also stylishly flaunt them by using different tricks and tips. If you are bored by dealing with chains hooks and buttons then close your eyes and go for a t-shirt. There are a lot of cute t-shirts for girls and boys available online. You can purchase them from there, or you can also buy them offline too. No matter from where you are buying, just make sure that they are made with good material and comfortable to wear.
Cute way 1 –casual with tracksuit:
Tracksuits are casual and t-shirts too. If you team up both of them then it will be a super cute pair. You can add some elegance to the look with a pair of high heels. Don't forget about the clutch and match it with your high heels. Earrings are the must-have to complete this whole look.
Cute way 2 – blazers will make you beautiful:
If you want a casual look just wear your t-shirt with shorts. But it is too common and almost everyone wears it every day. So, add something new in this simple style layer it up with a blazer. You can match the colour of the blazer with your shorts. A pair of two-toned heels will complement it and assemble the whole look beautifully.
Cute way 3 –Mix and match set:
Mix and match style never fails to impress people; it looks cute too. You can wear your t-shirts in a mix and match style. Wear the shorts and the vest of the same colour or print and wear a contrast single coloured cute t-shirt with it. If you want to look more elegant then you can also replace the shorts with a skirt and use the same method.
Cute way 4 – pleated mid-length skirt:
T-shirts look cute when you pair them up with a skirt. For young girls, it is the best way to show their charms and youthfulness. Skirts give us a more feminine look. If you are not comfortable wearing a short skirt then you can also go for a mid-length skirt or knee-length skirt. Wear pleated skirts with a plain graphic t-shirt to get a womanly look.
Cute way 5 – concentrate on footwear:
Footwear plays a very important role in your whole look. The inappropriate footwear can ruin all your efforts on the outfit. Thus, it is important to choose carefully. You can wear simple t-shirts for women with denim jeans and pair them up with gorgeous pumps or high heels. This will give you a fashionable look with less effort.
Cute way 6 – pair it up bustier:
If you want a dramatic look then a bustier is perfect for you. It makes the t-shirts interesting and makes you look super cute. You can choose a white lacy bustier with a white t-shirt and pair it up with blue jeans. It will surely make you look cute and young.
Cute way 7 – be bold with a suit:
Playing cute is ok but sometimes you need to look bold too. T-shirts can give you a bold and strong look too if you wear them with a suit. Wear a matching bold formal solid colour suit with a complimentary cute t-shirt. Complete the look with a sneaker and rock in your formal look.
Cute way 8 – t-shirt dress:
You can wear your oversized t-shirt as a dress too. Just add a belt to the look and look cute. This is perhaps the easiest way to dress up and look cute in a t-shirt.
Cute way 9 – overalls:
Don't be afraid of trying out new looks, try polka-dotted overall with tees to look cute. Overalls are never out of fashion and it is one of the cutest outfits as well.
Cute way 10 – cute hairdos:
Wear a t-shirt with a skirt or a dress. Simply leave the hair open or do a ponytail and wear some cute hair accessories.
Cute way 11 – jacket:
Team up your t-shirt with a cool and cute jacket. Complete the look with a sneaker and rock into your cute and casual look.
Cute way 12 – cool purses:
Purses are the most important part of a look. You can use cute clutches and small side bags with your cute t-shirt dress. We discussed all the cute ideas of wearing t-shirts with you. Now you just have to try them and show your charm and cuteness to the world.