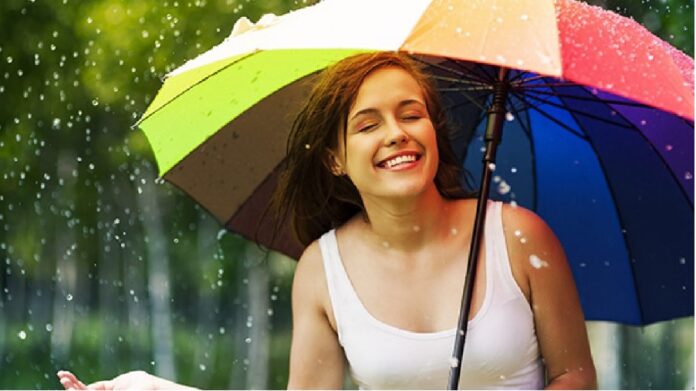 Imagine backpacking amidst noisy clouds, the aroma of wet soil, and the tickling of rain droplets on the leaves. And then, obviously, you wake up from the dream and see the water clogged roads. Going to the office and completing daily chores in the monsoon feels like combatting a battle like a knight. While in the monsoon, we love to sit back and relax with "Chai-Pakode"; for the daily commuters, it's nothing less than winning a fight against all the jammed roads and mud. But amongst all this hassle and enjoyment, we miss out on small details of monsoon essentials. Only a full closure umbrella isn't enough to take care of yourself in the monsoon. Hygiene and healthcare have also become very important. So, here are 5 monsoon essentials for you: 
Moisture absorber:
During monsoon, the amount of moisture in the air can increase, which results in damp flooring and furniture. The moisture absorber will eliminate the excess moisture from your indoor air and keep your home clean and healthy. The moisture absorber also prevents the growth of mould and mildew. Also, it helps eliminate odour and protects different types of fabrics. You can use Absorbia's moisture absorber, designed exclusively to fit into corners. This box is entirely spill-proof and can be used in toy chests, bed boxes, kitchen and shoe cabinets and other storage spaces to protect clothes, food, towels, linen, shoes and books from harmful mould, fungus and musty smells.
Waterproof laptop bag:
If you are a student or a working professional, you must know how to keep your laptop safe in the monsoon. A laptop bag is one of the essential accessories for people who take their laptops everywhere. The problem with leather bags is that they are prone to damage in rain and water. In addition, leather absorbs moisture from the air, making it even more important to get them dry quickly. But if you have a waterproof bag, you don't need to worry about any of these things. They protect your laptop from rain and water. In addition, your laptop will be safe from bumps and falls, and they come with extra padding for added protection. Try out Zouk's printed and multicoloured waterproof laptop bags. It's durable, leak-proof, and easy to carry. 
Classic Mosquito Net:
The monsoon season is ideal for mosquitoes to breed and cause dengue fever. The long spell of rain causes standing water in puddles, leftovers from rain, or even cattle ponds that act as perfect breeding grounds for them. The risk of infection rises when you use water accumulated over a longer period for cooking, cleaning, or other purposes. The best way to get rid of this problem is to use a mosquito net while sleeping. First, make sure the fabric is breathable and has no holes. You can use classic foldable mosquito net. It is self-supporting, easily washable, and eco-friendly and the extra cloth at the bottom provides additional protection. 
Safety gumboots:
Safety gumboots are a must addition for people who walk on the water-clogged roads, play in puddles, or are keen to travel in the monsoon season. Gumboots are waterproof footwear which often works even beneath the shallow stream, keeping your feet dry and safe. They are one of the most comfortable footwears for children and pregnant women as their legs don't have to be soaked with water while washing clothes, watering plants and cleaning floors. You can try out Decathalon gumboots, which are long-lasting and made with high-quality fibre. It helps protect your feet and legs from water, mud or other slippery surfaces. You can wear them in the workplace or on the adjoining roadways and pathways. 
Clownfish Raincoat:
Last but not least, let's walk back to our old rainy days in school. Remember that time when a raincoat was compulsory during your school days? Of course, jumping in the mud and sprinkling water on each other's raincoats will always be an emotion for us. But, did you know that a raincoat has a lot of benefits rather than preventing us from getting wet? For example: protecting our skin from the water and mud. Make raincoats a part of your monsoon fashion statement with Clownfish raincoats. It is made of durable and high-quality Polyester fabric and additional leak-proof stitching. The back reflective stripe assures safety while travelling in low lighting.