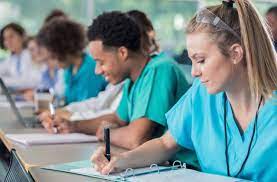 You might know someone who holds an excellent GPA or MCAT score. Also perfect in conducting research or working in volunteer activities (required for medicinal studies). Still, face rejections when applying to the med schools.
Here, what medical school personal statement plays a pivotal role. With the strict guidelines of the admission process, approximately 60 percent of applicants deal with rejections. Undoubtedly, it's a hurting situation. Therefore, a stand-out application is highly recommended.
The personal statement contains not only your strengths but also underlined how your story sets you apart from other applicants. The reliability and quality personal statement influence your admission success. Of course, writing an outstanding medical school personal statement ends up with a lot of brainstorming.
Know Medical School Personal Statement Challenges and Opportunities
While writing, you're major concern probably would be:
Selecting the right topic.
Looking for a unique essay.
Your idea is to emphasize why you desire to go into medicine.
What actually the admission committee wants? Surely, your GPA, MCAT score works, but now they highlight more about you. Their vision to have a perfect medicine professional to serve society well.
Your specific qualification and experience attain their attention. A monotonous personal statement will make them less interested in hiring you. Don't try to replicate the application; rather than put in your own words to excel.
Read different samples to know the right way of writing a personal statement. Perhaps, come out from the rejection pile. Explain why they should select you by looking beyond numbers & resume and the genuine reason to go into medicine.
First Impression is the Last Impression
Many times the admission committee accepts the application by not going through a full application. Instead, read about the introduction. A remarkable introduction is necessary to throw an everlasting impression. The way you penned down the intro can make the best medical school personal statement. Catch some practical tips:
➤ List your greatest qualities with examples
Before starting, repeat the question (as mentioned above) why you want the admission committee to select you beyond the numbers & resume. It's time to come out from the hobby section. Talk about your lifestyle playing a major role in medicine.
Everyone is mentioning their qualities, including character, personality traits, attitudes. Hence, it's time to avoid them. Highlight something extra ( and should be real) and explain them with examples- kindness you did to others, optimistic attitude, a great learner, listening skills, etc.
➤Demonstrate your best qualities in a story
The most common way of starting an essay is by describing a clinical or research experience. Well, to make your essay distinct, start with the few qualities that explain the real events. Shape it into a story that attracts the reader's attention. In other words, it's okay if the topic is not too attractive. The way you pull it off that matters.
➤Discuss the most formative experiences that led you to medicine
Make sure your qualities are also related to the volunteer experience or qualification. This renders trust. Ensure you're writing in the limit assigned to you. So, don't talk about everything. Only shower the spotlight on the best things.
How to explain your experience? Discuss why you pursued the experience, what you felt while working, any accomplishment, how the experience changed your perspective or personality, and how it made a difference to influence you to have a career in medicine.
Final Views
The interesting introduction you'll offer, the more chances of selection rises. Remember to talk about the qualities, passion, or experience in conclusion. Re-emphasizing seeks the high attention of the admission committee.