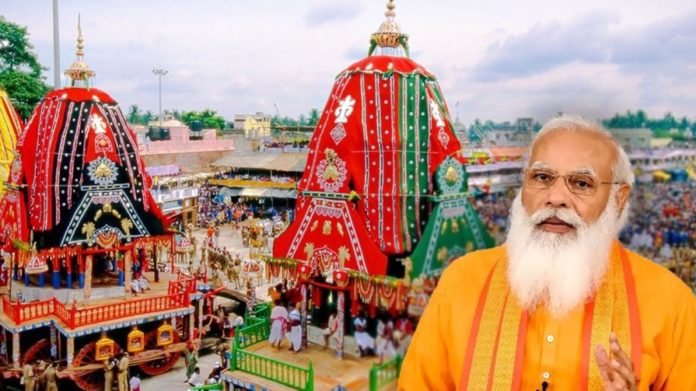 Puri Jagannath Rath Yatra 2021 Begins Today Amid Covid-19 Restrictions
Rath Yatra is a festival associated with Lord Jagannath held at Puri every year on the second day of Shukla Paksha in the month of Ashadha. Today, a devotee-less rath yatra begins amid restrictions in view of the coronavirus pandemic. President Ram Nath Kovind and Prime Minister Narendra Modi extended greetings to the nation on Today's auspicious occasion. PM Modi took to twitter and said, "Greetings to everyone on the special occasion of the Rath Yatra. We bow to Lord Jagannath and pray that his blessings bring good health and prosperity in everyone's lives. Jai Jagannath."
The Jagannath Temple administration has said that the yatra will be organised by following all Covid safety protocols. As reported in a news agency PTI, Administrator of Puri Jagannath Temple, Ajaya Jena, informed that only those servitors who test negative for Covid-19 would be allowed to participate in pulling of the chariots. According to news reports, no devotees are allowed to participate in Rath Yatra. Chariot pullers who test RT-PCR negative and have been fully vaccinated will be permitted to attend the yatra. As per the Administrator, 3,000 'sevayat' (servitors) and 1,000 temple officials will be allowed to perform all rituals and RT-PCR tests are going on at four places at Puri since July 8. The Odisha state government had permitted the Rath Yatra only in Puri Jagannath temple with strict Covid-19 restrictions and protocols. According to the district administration's order, Puri is currently under a 48-hour curfew and the restriction will remain in place from 8pm on Sunday to 8pm on July 13.
Significance of Puri Jaggnath Rath Yatra
Jaggnath Rath Yatra is a significant festival in Hindu Religion. It is celebrated by worshipping Lord Jagannath, his elder brother Balbhadra (Balaram) and sister Subhadra. A symbol of harmony and unity, Rath Yatra is attended by lakhs of people from across the world. According to religious beliefs, Lord Jagannath is taken out on a Rath Yatra and taken to the famous Gundicha Mata temple, where the Lord rests for 7 days. After this, the return journey of the Lord begins. It is a popular belief that those who take part in the festivity "earn their passage to heaven".
(with PTI inputs)