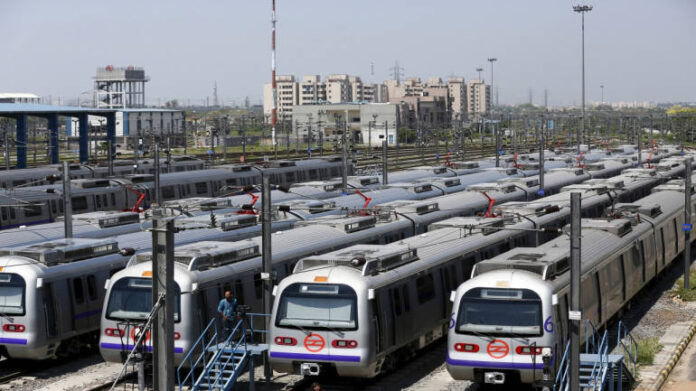 You can now reach just forty minutes from the spectacular ride of the Delhi Metro from Noida to the Delhi airport Terminal One. A section of this line of 38 kilometers is already on.
Now you can reach Delhi Airport's terminal van on Noida through a spectacular ride from Delhi Metro in just forty minutes. A section of this line of 38 kilometers is already on.  Now from next week, part of Kalkaji to Janakpuri will also be ready with the Metro. Sit at Noida's Botanical Garden and get straight to Janakpuri West. 38-kilometer long magenta line of Delhi Metro is now fully ready. And if you have to go to Gurgaon from Noida then you can save your stay at least 40 minutes by changing the metro.
The special thing is that on this line you will also find the country's tallest and tallest escalator. You start off on this escalator of Janakpuri West and decide the height of the five-story building standing. With the help of this escalator, you are now on a new platform, which is 5.65 meters high and 35.32 meters long.
This is a new beginning for the Metro. This magnetic line 38 kilometers long is now fully open. A 12-km route from Noida's Botanical Garden to Kalka Ji was already opened. Now it is about 26 km of the corridor from Bari Kalakaji to Janakpuri West, which has 16 stations. These stations are Nehru Enclave, GK Enclave, Chirag Delhi, Panchsheel Park, IIT, Hauz Khas, RK Puram, Munirika, Vasant Vihar, Shankar Vihar, Terminal 1, Sadar Bazar, Palam, Dashrathpuri, Dabari Mud and Janakpuri West. 23 kilometers of the corridor is underground. There are two stations which are elevated. From May 29, Delhi will be able to travel in this entire corridor. You can catch such a metro every five to five minutes on this line in the peak hour.
more information you can visit: Magneta line of Delhi Metro