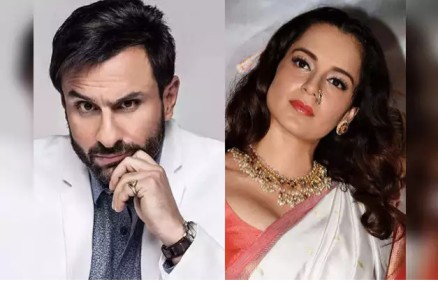 Saif Ali Khan made a statement a few days ago that there was no concept of India before the arrival of the British. Now Kangana's comment has come on his statement and he has criticized Saif's statement.
Saif Ali Khan had said in a recent interview that there was no concept of India before the British came to India. This statement of Saif is being criticized a lot and now Kangana has also given her reaction to this statement. Kangana has criticized Saif on this matter and has misunderstood his statement.
Kangana said- What was Mahabharata?
During the promotion of her upcoming film 'Panga', Kangana said, 'If there was no' India 'according to Saif, then what was' Mahabharata'? And what did Ved Vyas write? ' Kangana further said that some people have the same views Which seems right to him, but in the Mahabharata, Shri Krishna has clearly mentioned that India was also present at that time. He said that even in the olden times, different kings have fought for a common identity which was called 'Bharat'.
Kangana, who is ready to appear on the silver screen with 'Panga' once again, said that some people still talk of isolation which is wrong. He said that the partition of India was an event that happened long ago but people are still struggling with that event.
Meanwhile, let us know that Kangana is playing the role of a kabaddi player in her upcoming film 'Panga'. Directed by Ashwini Iyer Tiwari, the film stars Kangana alongside Richa Chadha, Jassi Gill and Neena Gupta in the lead roles. The film will be released on January 24.