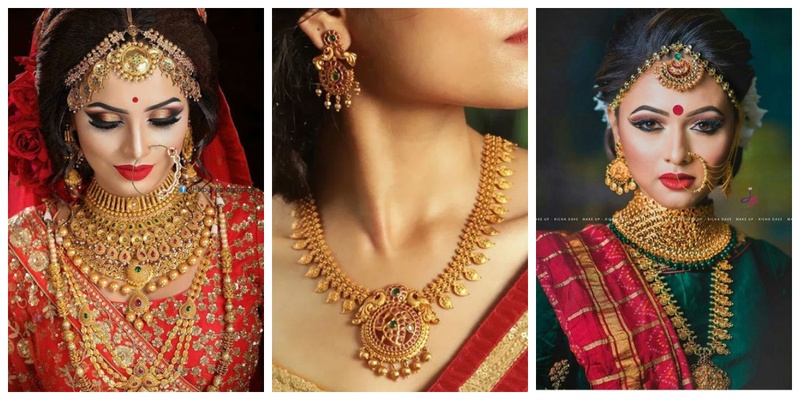 Necklaces are one of the important accessories of any woman's jewelry wardrobe. Today, they are not just confined to being a piece of jewelry; instead, they have become symbols of personal taste and fashion sense. From pendants, chains, and trendy lockets for girls, there is much to explore. There are innumerous varieties of necklace designs and sizes. Whether you want a subtle dainty piece or a stunning ornate piece, the huge necklace assortment has got all. Feeling excited? So, gear up gals! This article is going to provide you an insight into different types of necklaces and the best ways to don them.
Here we go….
Necklace Designs and the way to wear them
Chain necklace – Chain necklaces are commonly made from silver and gold. These necklaces boast a thin profile and simple style. You can either wear them alone or use a pendant along. Usually, thin necklace chains are short and the thicker ones are longer.
Collar necklace – As their name implies, these necklaces fit snugly around your neck. However, for these necklaces fit is very essential because if there is even a slight mix match it can either make or break your look.
Long necklace – Due to their length these necklaces are easy to don. They are usually 24 inches or longer. They can be worn without using a clasp. In many designs of these gold necklaces, adjustment feature is added that allows you to wear the necklace at different lengths. Moreover, these can be used for creating trendy layers.
Lariat necklace – Lariat necklaces are best to add a pop to your low necklines. These necklaces can loop around your neck in multiple strands. Adding more to its beauty are the loose ends that can either be knotted or looped.
Locket necklace – Lockets are another pretty addition to the list of necklaces. Lockets are small pendants that exude a distinct charm. They also allow you to personalize by engraving miniature pictures and portraits. Lockets are classic jewelry pieces that can be worn in a variety of styles. Additionally, there is an exhaustive list of designs when it comes to choosing lockets. Whether you pick a cluster of charms or distinct geometric shapes, lockets are sure to ooze elegance.
Long and short pendant necklaces – If you want to add jazz to your look then wear the long and short pendant necklaces. One perfect example is the Sunshine Necklace that looks really beautiful and trendy Usually, pendants necklaces having diamonds of gemstone studded pendants are worn at shorter lengths near the throat. While the classic fashion pendants are worn with long necklaces. Fantastically, layering them together will add fun to your look. When layered they will truly look amazing and will create a pretty effect.
Last but not least- the statement necklaces. These trendy necklaces can be coordinated with your contemporary outfits. But be sure to pair the right earrings. Sometimes the statement necklace might need simple earrings while other times it may need bold ones. So, try and test what looks best. Do this with other necklaces as well. Surely, these necklaces are going to take your appeal to the next level.