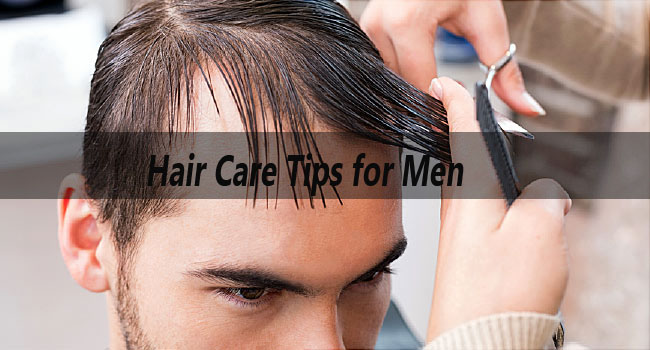 No matter whether you have long, thick, thin, short, curly or straight hairs, your hairs need regular maintenance to look healthier. Just because women are more conscious about their hairs and body, a man does not need to take care of their hairs. From problems like breakage to baldness, greasiness, thinning of hairs and much more, not maintaining hairs properly can result in all such problems. If you take good care of your hairs on the regular basis, your hairstyle would last longer and you won't need to visit the barber for styling hairs for some special occasion. This is the reason that it is important for every man to stay updated with the hair care tips for men for healthy-looking hairs.
Here Are Some of The Effective Hair Care Tips For Men to Keep Healthy-Looking Hairs:
Don't Rub Your Hairs, Rather Dry Hairs Gently:
Because wet hairs are more vulnerable to damage, avoid rubbing your hairs after the hair wash. Doing so may break your hairs; therefore, the better way to avoid hair breakage is the pat dry.
Protecting Hairs From Chlorine:
Taking a bath in the pool can be disastrous for your hairs as the pool water contains an excess amount of chlorine. Washing hairs in the pool water can make your hairs look dry and brittle. Therefore, to protect your hairs from the harmful effects of chlorine, make sure to apply a little amount of conditioner in the hairs. Alternatively, you can wear a shower cap before stepping into the pool.
Make Use of The Right Tools:
Always ensure to avoid using a brush on your wet hairs. If you want to comb your wet hairs, you need to make use of a wide-toothed comb so as to remove tangles gently from the hairs. Don't make use of the tools like blow dryers or straighteners on the regular basis to avoid damage to the hairs. Make sure to remember this useful hair care tip for men to keep your hairs healthy.
Don't Over-Wash Your Hairs:
It is the most common mistake made by every man. Because your hairs are shorter, it does not mean that they require washing every day. Therefore, it is advised to limit washing of hairs to twice a week
Make Use of An Egg Conditioner:
Since the egg is comprised of all essential proteins and minerals, the egg is considered healthier for the hair health. Therefore, it is recommended to condition the hairs using egg yolk and make sure that egg yolk reaches deep into the scalp. This is the best yet easiest hair care tip for men.
Keep Hairs Trimmed:
There is no other way to remove the damaged hairs other than cutting them off. So, keeping your hairs trimmed time to time would eliminate all split ends from the hairs. No matter if there are split ends in your hairs or not, get hairs trimmed after every six weeks for healthy-looking hairs.
Because your hair is the first thing that would last impression on everyone, you need to take regular care of them. Follow the useful hair care tips for men discussed above in the blog to make your hairs look healthier and stronger.