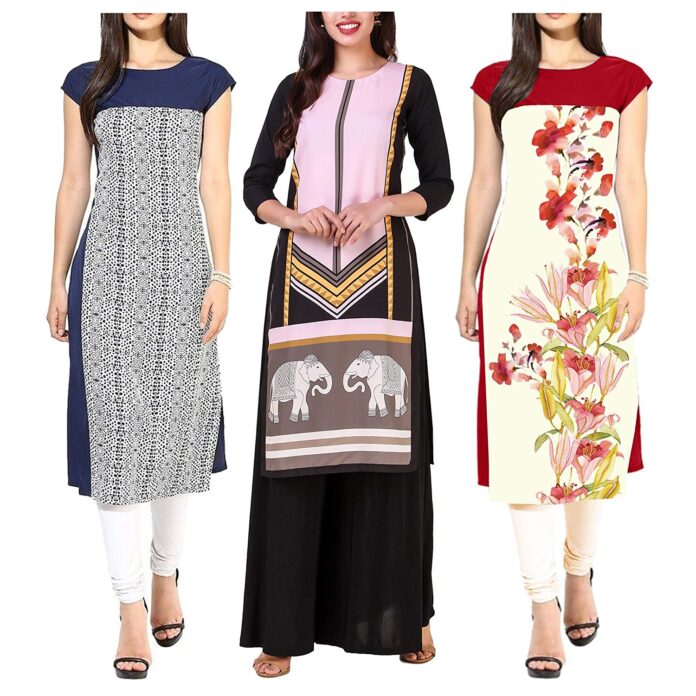 Every woman has a common favorite dream; that of owning a wardrobe that is complete with classy, cool and chic outfits. If she gets a chance to buy designed kurtis online or offline, I am sure every woman will be excited about such an opportunity. Most designed kurtis are perceived to be in the expensive zone. Even if bought they are worn sparingly. This can change with printed Kurtis for women. Definitely, not all printed Kurtis for women falls into designed Kurtis category, but some of the latest digital print Kurtis are in no way less in comparison to a designer kurta.
Most digital printed Kurtis for women are made in georgette, rayon, crepe and even in cotton. Fabrics that are smooth textured and have a flow in them make for great digital prints. Every move and a swirl of the kurta can highlight the design. Cotton kurtas can retain a particular shape compared to that of a smooth and flowy textured fabric like a crepe. Most designers use cotton fabric for designs that are traditional and patterned.
Some of the latest trends noticed in the digital printed Kurtis for women which will tempt you to buy designed Kurtis online can be bracketed into the following themes:-
Floral themes
Floral themes are an evergreen favorite. Brightly colored flowers with fauna and foliage on pastel shades of crepe and georgette kurtas is an irresistible buy for many. The motifs used in such prints are most commonly dominated by flowers like lotus, rose, and lilies. Animals that feature the most in digital print Kurtis are the peacock, butterflies and occasionally tigers.
Egyptian themes
The Egyptian theme in dressing is not the most commonly found. However, it is a popular them and has many takers. Sandy dunes with a backdrop of pyramids highlighted with silhouettes of Egyptian kings and queens is one popular form. Yet another design that is an all-time favorite is the hieroglyphs, there is always a segment of women who will buy anything with hieroglyphs on them.
Landscapes
Landscapes like a village scene or a desert scene or a garden scene or a mountain scene are quite popular in the digital print kurta segment. The design can be minimal or heavy. There are women who like both kinds of digital prints.
Geometric patterns
An all-time favorite and a theme that never goes out of style are that of the geometric prints. Squares, rectangles, circles, triangles, rhombus, and trapezoids all find a place in digitally printed kurtas. They create an immediate effect of a trendy dress and are quite popular with the young crowd.
Mandala style
The mandala style of print earlier was considered hippie and was restricted to people of a certain bent of mind. Today, these prints have found acceptance with one and all. A minimal mandala design to an exuberant one, these patterns are colorful and eye-catching at the same time.
When you next want to buy a kurta, try to add ladies palazzo pants online to the cart, ensure you check out the digital print collection to add to your wardrobe.