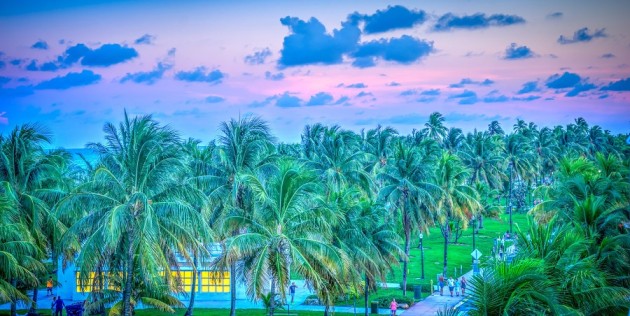 Like the global superstar rapper Pitbull said in his hit single with Chris Brown, 'there is nothing like a Miami Beach.' Rarely do I agree with Mr. 305, but he sure was right. Miami beaches are undoubtedly the eighth wonder of the world. They are certainly a sight for sole eyes, the sand, waves, and scenery. The beautiful people, games, barbeque, and the clear seas, they are amazing in every definition of the word. Miami has so many of them that it was a bit hard to streamline this list into a top 5 that captures the idea of what a first-time traveler would love to see and enjoy. Ladies and gentleman, I present to you the top five amazing beaches in Miami, the best that the city has to offer:
South Beach
I'm taking my talents to South Beach, a statement made by first ballot hall of fame basketball legend Lebron James heard around the world. Lebron made this statement announcing his move from his hometown franchise Cleveland Cavaliers to Miami Heat for pure basketball. Still, I'm sure he couldn't resist the beauty of Miami's glistening shore houses. It's resident to various celebrities and has been mentioned in a lot of hit singles and commercial masterpieces. It's also a great place to let down your hair and relax as a first-time traveler. Who knows, maybe you might see King James and the banana boat guys soaking up the sun on this fantastic shore side.
Bill Baggs Cape Florida State Park, Key Biscayne
I'm just here to chill and take advantage of comfortable scenery to enjoy a nice day out with the family. This new beach is one of the freshest attractions of Miami city. Bill Baggs Cape Florida State Park, Key Biscayne is a relative newcomer in Miami's hierarchy, but don't get it twisted; it is no slouch. KeyBiscayne combines intimacy with discreetness as it is a cool place to take your young family out as a first-time traveler. It doesn't have the excess buzz and the huge crowd of bigger sites like its southern counterparts, but it has a beautiful view, fresh snacks, and awesome lifeguards to keep you safe just in case.
Bal Harbour Beach, Miami Beach
For the rich kids and the fresh out of Ivy schools,BalHarbour Beach, Miami Beach is the place to be if you want to see hot summer bodies strutting their stuff and making you feel less of a human. Just kidding, the place has a nice vibe and a plethora of good looking young people. Bal Harbour has lots of beautiful women donning the skimpiest of swimsuits, and a lot of model dudes seemingly auditioning to be the next face of Emporio Armani. This location got the best bodies, and it's a super nice place for a first-time traveler looking to show off his summer body and get away from the stress of work. There is nothing like seeing beautiful people in the summertime.
12th Street Beach, South Beach
The world is evolving, and sexual orientation lines are getting blurrier. Most of the major cities in America have adopted this model, and it is little wonder that Miami's downtown jumped on the trend, behold 12th Street Beach, the sexiest gay beach in the whole of America. This site has a super chilled vibe with a plethora of beautifully clad Speedo wearing men flaunting their summer bodies and leaving onlookers wishing they traded places. This is a cool spot for first-time travelers that support the LGBTQ struggle and are in the mood to see dark tans and rock-solid abs in abundance. Miami has it all; 12th Street is a great place for casual visitors and seasoned veterans. It also has an awesome bar and fun games to keep you occupied.
Haulover Naturist Beach, North Beach
No top five or top ten list of Miami Beach sites will be complete without shouting out to the first nude beach ever in the great city, Haulover Naturist Beach, North Beach. This site is quite old and is an awesome optional clothing site that has both the old and young soaking up the sun and enjoying the vibe of sweet music played over eardrum bursting stereos. It is a great tourist attraction for first-time travelers that are curious about what an optional clothing place looks like, and it's worth the hype.
Miami for International travelers
Miami beaches are some of the most beautiful sites in the world; they have the most beautiful women, the best waves to surf, and you could run into a celebrity megastar on any random summer morning, such bliss for a wide-eyed international traveler. However, as a first-time traveler, you will need an ESTA for America to make this dream come through. You can get your ESTA from the ESTA website, on the website, you will see a form you are required to fill with as much truthfulness and accuracy as possible. On filling the form and clicking submit, you will now proceed to wait for forty-eight hours for a response from the ESTA team. If you don't get a response, don't worry, you can revisit their website and click on check my ESTA. Here you will see if your ESTA request was granted or denied. After you get positive feedback from ESTA, you can proceed to pay on the receipt of the ESTA for America documents. What are you still waiting for an avid beach lover? Get your ESTA today and visit one of the five most beautiful beaches in Miami. Ensure that those heavy bags don't get into your way while enjoying those gorgeous Miami beaches. Just drop them at luggage storage miami beach and enjoy sun and sand to the fullest.