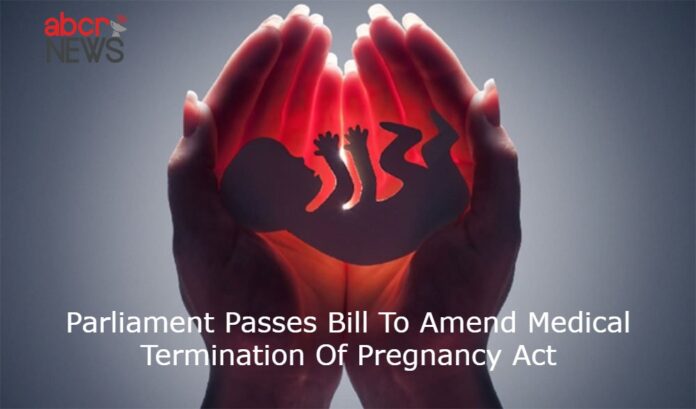 The Rajya Sabha Tuesday has passed the Medical Termination of Pregnancy (Amendment) Bill, which allows abortion up to 24 weeks from the existing 20 weeks, for 'certain categories of women', with the assent of two doctors.  The bill is to amend the Medical Termination of Pregnancy Act, 1971. In present according to the medical termination of pregnancy act, for abortion within 12 weeks one requires to have the opinion of one doctor and between 12 to 20 weeks will require the opinion of two doctors. The new bill amends these requirements and according to the new bill only a single doctor's opinion will be enough to get an abortion within 20 weeks and an opinion from two doctors will be required for an abortion between 20 and 24 weeks for "certain categories of women".
After the passing of the bill in Rajya Sabha, Health Minister Harsh Vardhan tweeted that "The bill will protect the dignity and rights of women". While presenting the amendment bill Union Health Minister Harsh Vardhan told the House that extensive consultations were done before the bill was passed. The Ethics Committee was also consulted. Bill was also approved by a Group of Ministers headed by Nitin Gadkari. The bill was passed in the Lok Sabha last year. However, members of the opposition demanded the bill be sent to a select committee but the demand was defeated by a voice vote. The Bill has provisions to set up state-level Medical Boards to decide if a pregnancy to be terminated beyond 24 weeks in cases of foetal abnormalities. Also, the act restricts registered medical practitioners from revealing personal information of a woman whose pregnancy has been terminated to anyone except to a person authorised by any law during that time. Anyone who violates the privacy norms may have to face a fine or imprisonment of up to 1 year or fine or both under the amended act.
The medical termination of pregnancy bill makes provision to constitute a medical board consisting of a gynaecologist, a paediatrician, a radiologist or sonologist in every state government and union territory. The government acknowledged that it is a step towards the safety and well-being of women. Also, health experts have welcomed the government's decision. The new amendment bill acknowledges the abortion needs of unmarried women for the first time that is a step in ensuring universal access to safe abortion services for women and girls.