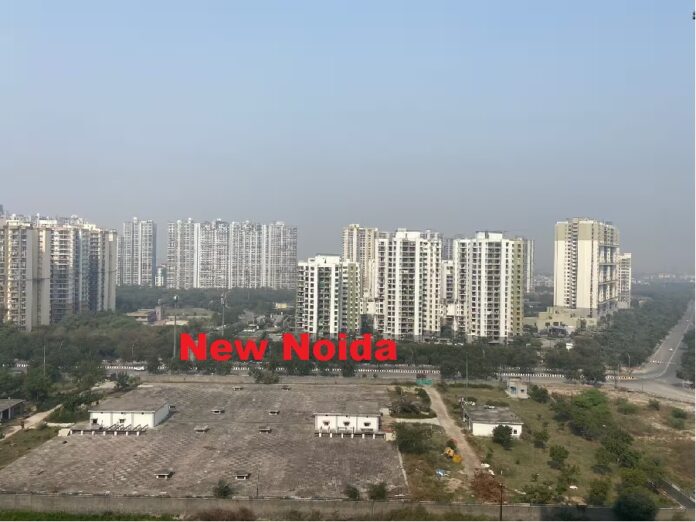 New Noida will be settled in 210 square km. This will provide huge benefits to the business of Delhi-NCR. New Noida will also be connected to Faridabad-Noida-Ghaziabad route (FNG). New Noida will be established on both sides of the Eastern Peripheral Expressway.
Soon farming will stop in 84 villages of UP. Even animal husbandry and dairy will not exist. All the small and big houses built in the villages will also be razed to the ground. Farmers will have to leave the villages and make their place somewhere else. The youth living in villages will also be called businessmen and not farmers. All these villages fall within the borders of Delhi-NCR. Soon the villages will be replaced by a shining city. And the name of this city will be Dadri-Noida-Ghaziabad Investment Region (DNGIR). But for the convenience of the people, it will also be known as New Noida.
According to experts, Delhi's School of Planning and Architecture is designing New Noida.
According to the experts associated with Noida Authority, the foundation of New Noida will be laid on 84 villages of Bulandshahr and Gautam Buddha Nagar. All the villages belong to Secunderabad tehsil of Bulandshahr and Dadri tehsil of Gautam Buddha Nagar. It is noteworthy that the proposal of New Noida has also been approved by the Governor of UP.
Farmers will become businessmen in New Noida through landpooling.
If experts are to be believed, farmers will also get a chance to do business in New Noida. Land of farmers of 84 villages of Gautam Buddha Nagar and Bulandshahr will be taken for New Noida. Farmers' land will be taken under the landpooling scheme. Which would mean that after developing the city, 25 percent of the land will be returned to the farmers whose land will be taken. Farmers will be able to sell it to builders and companies or can do business on that land themselves.
Delhi-Mumbai Industrial Corridor-SEZ will get a chance
Two things will be very important in the plan of New Noida. First is Delhi-Mumbai Industrial Corridor and second is Special Economic Zone (SEZ). The special feature of SEZ will be that Industrial Units, Industrial Estates, Agro and Food Processing Zone, IT, ITS and Biotech Zone, Skill Development Centre, Knowledge Hub, Logistics Hub and Integrated Township will be given opportunity in this scheme. Also, Delhi-Mumbai Industrial Corridor will be established here. India and Japan have jointly prepared a plan to develop this corridor. This corridor will pass through seven states Delhi, Western Uttar Pradesh, Southern Haryana, Eastern Rajasthan, Eastern Gujarat, Western Maharashtra and Indore of Madhya Pradesh.
| | |
| --- | --- |
| These villages of Bulandshahr will be included | Villages of Gautam Buddha Nagar included in New Noida |
| Khairpur Tila | Berangpur alias Nai Basti |
| Lauthar | Fazalpur |
| Luhakar | Chandrawal |
| Mahipa Jagir | Chersi |
| Dulhera | Phulpur |
| Konadu | Raghunathpur Part |
| Naithala Hasanpur | Cheeti |
| Mohidinpur Nagla | Chhayasa |
| Mehtab Nagar | Dayanagar |
| MalahpurMasauta | Devta |
| Moradabad | Khandera Girjapur |
| Nagla Baroda | Kot |
| Nagla Shaikh | Milk Khandera |
| Agrai | Nagla Chamru |
| Ashadevi alias Puranagarh | Nagla Cheeti |
| Asafpur | Nagla Nainsukh |
| Baroda | Anandpur |
| Bharana | Beel Akbarpur |
| Bhatola | Rajpur Kalan |
| Bhaukheda. | Shahpur |
| Birondi Fauladpur | Khurd village |
| Bironda Tajpur | |
| BiswanaBoda | |
| Butana | |
| Chandrawali | |
| Chola | |
| Dinaul | |
| Dharaud | |
| Dhameda Nara | |
| Dhimri Aidalpur | |
| Kishanpur | |
| Faridpur | |
| Hridaypur | |
| Jokhabad | |
| Joli | |
| Cairo | |
| Kaithra | |
| Kanwada | |
| Kaurali | |
| Nekampur alias Bishanpur | |
| Nizampur | |
| Pachauta | |
| Peer Biabani | |
| Rajarampur | |
| Rajpur Khurd | |
| Rupwas Panchgai | |
| Sabdalpur | |
| Sainthali | |
| Sarai Ghasi | |
| Senwali | |
| Shahpur Kala | |
| Sikheda | |
| Sutari. | |
| Talabpur alias Kanakpur | |
| Gopalpur | |
| Hasanpur Jagir | |
| Umra | |
| Labbaya | |