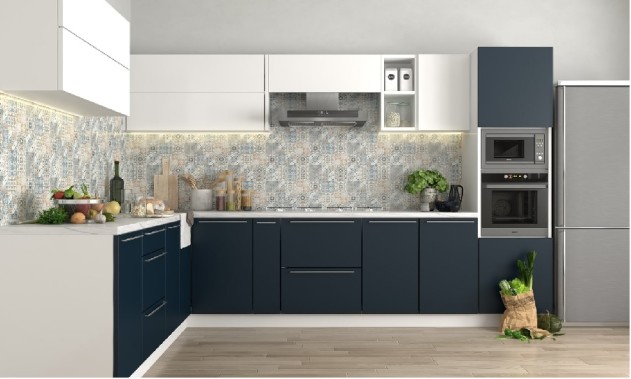 If you are looking to revamp your kitchen or design an entirely new kitchen, there are some things you need to keep in mind before making your decision. Firstly, it is important to understand the layout of your kitchen and then choose the type of modular kitchen that suits your needs. It is essential to keep in mind the Golden triangle (also called the working triangle). This is an imaginary triangle at the corners of which lie the three main work areas- sink, cooktop, and refrigerator. Ideally, each side of the triangle should be a maximum of 9 feet long and a minimum of 4 feet apart at any given point, and the total of all sides should range from 13 feet to 26 feet.
After considering all this it is time to choose the most suitable layout of modular kitchen for you. Here are some popular modular kitchen options.
L-Shaped Kitchen Layout:This is the most popular and ideal layout for kitchens with limited space. As the name suggests, it consists of a single unit spread across adjacent walls of the kitchen. This layout is ideal for those who wish to include small dining table in their kitchen.
Straight Modular Kitchen Layout: As the name suggests, this layout has its unit across one wall only. This is the only layout that does not have a work triangle because all the appliances, fridge, cooktop, sink etc. are aligned to one single wall. This layout is considered ideal for lofts or small studio apartments as it does not take up much place. If you are planning to have an open plan kitchen, this is the ideal layout to do so.
Parallel Modular Kitchen Layout:Two long workstations run parallel in this layout. This layout is considered the most ideal for cooking and is mostly seen in restaurants. It works best for kitchens that are long and narrow and provide a lot of storage space. The two workstations can be used to separate two different activities or cooking types like 'wet' and 'dry' or 'veg' and 'non veg'.
Island Modular Kitchen: If you like entertaining guests or cooking while having a chat with your family, this is a very good option for you. This type of kitchen has an I or L-shaped layout against the wall but at the center is the unattached, free island workstation. Islands can be used as breakfast tops or cooktops or can be fitted with sinks while giving your modular kitchen a trendy contemporary look.
G-Shaped Kitchen Layout:If you want an island kitchen but with more usable space, G-shape layout is the way to go. This looks pretty similar to the island kitchen but has the added advantage of the island being attached to the main workspace. This helps the kitchen well-structured and organized while proving plenty of storage space.
U-Shaped Kitchen Layout: This has a clear 3-sided workstation which makes segregation of work into washing, preparing, and cooking much easier. This type of layout is ideal for larger kitchens and provides plenty of storage space. U-shaped layout is considered to have the most efficient golden triangle of all. Now that you know the different kitchen layouts, assess your needs and size of your kitchen to choose the perfect option for the kitchen of your dreams, handyman near me.