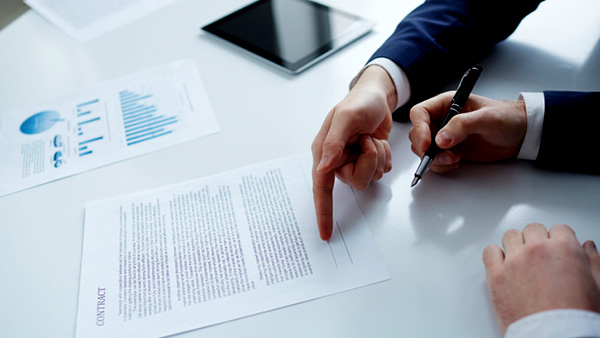 Contract signing software and contract management software
From business to banking, contracts are a part of everyday life. A contract is a written agreement between two or more parties, which is legally binding once signed. Signing a contract implies that you're approving the terms enclosed. With the evolution of the digital world, the traditional paper-based contracts are becoming internet-based.
Contract signing software                              
Fundamentally, your signature is the validation proof that you have read the contract and agree to its terms and conditions under full mental capacity. In today's world, several transactions are done online and e- signatures are gaining popularity. Through this, the need for physical documents is neglected and signatures can be uploaded and shared electronically. Since these documents are confidential, the concerned software must provide high encryption and security and should meet legal requirements. There are several software that provides such facilities. I've listed the pros and cons of a few of the contract signing software below:
Sign Request:
Pros: The interface is clean and well planned. It is less pricey than other similar products.
Cons: Clients with low technology based knowledge may have trouble with it. The formatting is not always on spot and requires more trials.
Bottom-line: A product worth the price.
E-Signature (by DocVerify)
Pros: The fast scroll features are really handy. Reviews can be done at any time. The layout is simple and user friendly.
Cons: Premium prices are quite high (for the full version).
Bottom-line: If your need exceeds the functionality of the basic package, then try some other software.
Adobe Document Cloud
Pros: Even a beginner looks like an ace with this software. It is a cloud sharing program, so it facilitates the accommodation of a wider base of clients.
Cons: There are a few complaints regarding slow loading in the mobile version.
Bottom-line: Very useful for PDF formats
Contract management software
A single company is often laden with multiple contracts and after a few years, the drawers and cabinets will be overflowing with paperwork. Contract managing software provides an easier way of handling these. Listed below are some popular software that you can use to manage your contracts.
Concord
Pros:  It is user-friendly and is quite cheap.
Cons: Functionality specific customization is difficult. The e-signature feature is not up to standard
Bottom-line: Concord is a great buy if affordability is your target, but its interface is not as spontaneous as the competition.
Apptivo Contracts
Pros:  The software is highly customizable. It is armed with invoicing abilities.
Cons: The email app needs further development.
Bottom-line: At this price point, it's packed features are hard to beat.
ContractWorks
Pros: Easy to use even if you have no prior experience. Pays attention even to minor details such as pre-setting email reminders before the document expires.
Cons: Functionality is quite limited and may not be applicable to all situations. Requires re-entering of data for every document upload.
Bottom-line: Very popular among small and medium-sized companies.