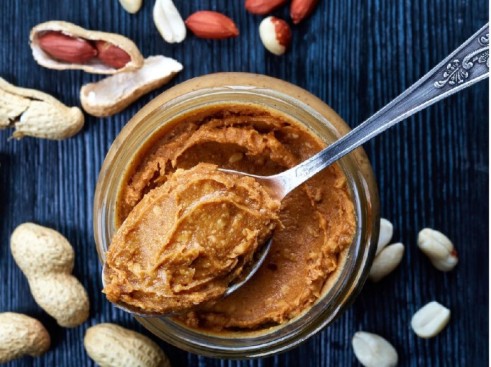 People of all age groups love peanut butter, and there's never a dull moment with peanut butter around. Peanut butter is truly a delight to feast on and think how fun it would be to create exciting recipes out of it. And that's not it! What if we tell that these recipes are also super healthy and nutritious so that your whole family can enjoy them without worrying about their health! We are sure that you're already drooling and can't keep yourself away from cooking these mouth-watering recipes. Let's have a look at healthy and tasty peanut butter recipes that you will fall in love with.
Peanut Butter Oatmeal Fudge
Peanut butter and oatmeal together in a recipe! It already sounds healthy and exciting, isn't it? Let's get to know how to prepare it in minutes!
Preheat the oven to 300-350 degrees and put a baking tray with butter paper on it.
Take an electric mixer and blend brown sugar along with peanut butter until it's fluffy and the color changes to a lighter shade of brown. Now add vanilla essence and mix again.
Now add flour, salt, and oats to the mixture along with baking soda. At this point, the dough should be thick and should look lumpy.
Add milk till the desired consistency is achieved. It should still be thick so that it forms a dough.
Add raisins and choco chips, and then start making the bars. Roll a ball, use your hands to give it the bar's shape, and then line the baking tray's bars.
After 15-20 minutes, once the bars are golden brown, take them out and let them cool.
Allow the bars to cool completely, and then feast on it with your entire family! You can make this recipe using MYFITNESS peanut butter that's quite popular these days. My fitness peanut butter price is also a treat to the pocket, and overall, this recipe is a great option to serve to friends and family.
Coconut Milk & Peanut Butter Pudding
Coconut milk is famous for its health benefits, and this recipe is a great breakfast or snack recipe! It's creamy, rich, and tasty but low on calories. The pudding doesn't require fire cooking, but it needs time to set, so it's essential to make this pudding and let it sit for a good time before you plan on eating it! To prepare:
Put rolled oats, coconut milk, and peanut butter in a blender.
Blend it smooth, and then add honey/maple syrup and vanilla essence.
Give it a good mix, and then pour the mixture into a bowl.
Put a cover or a lid over the bowl and keep the mixture in the fridge for a good 24 hours so that it sets nicely.
Once the pudding is set, take it out and garnish it with almonds and then serve chilled.
This pudding is a great way to start your day or have any time when you're feeling snackish.
No-Bake Peanut Butter Cookies
Cookies that do not require baking are always a winner. It not only saves time but is also easy to make and tastes great too! This recipe is lactose and dairy-free and is excellent for people with dairy insensitivities. To prepare:
Saute the oats in a nonstick pan for about a couple of minutes on medium heat.
Add muesli, peanut butter, and jaggery to the roasted oats in a bowl.
Add some choco chips or sprinkles if you like.
Scoop the mixture and form a cookie shape. Finally, refrigerate them for 1 hour and then enjoy a delicious and gooey cookie!
Chocolate and Peanut Butter Mousse Cake
It's such a simple recipe that you will be surprised while making it! It tastes heavenly and is loved by both elders and kids! If you're looking for a chocolaty dessert that's healthy and yummy, you are in the right place! Let's make this gorgeous mousse cake:
Add a tbsp coffee to warm water in a bowl and then keep it aside.
Take peanut butter and chocolate in a nonstick pan and mix well till it's smooth and creamy. Stir continuously to avoid lumps or burning.
Add the coffee water mix to the pan and stir again till it's combined and cook for a minute.
Add nuts, muesli, or granola to the peanut butter chocolate mixture and mix well.
Pour the mixture into a cake tin and keep it in the refrigerator for 3-4 hours to set.
Once it's chilled and set, take it out and cut equal parts of the mousse cake and enjoy!
Our favorite way to make this recipe is using creamy alpino peanut butter. Apart from the taste, Alpino peanut butter price will also get you drooling and ready to shop and cook!
We hope you liked these healthy recipes using peanut butter. The best part about all these recipes is that you can store them in the fridge and have them whenever you want! Try these recipes at home and treat your whole family with a peanut butter surprise!