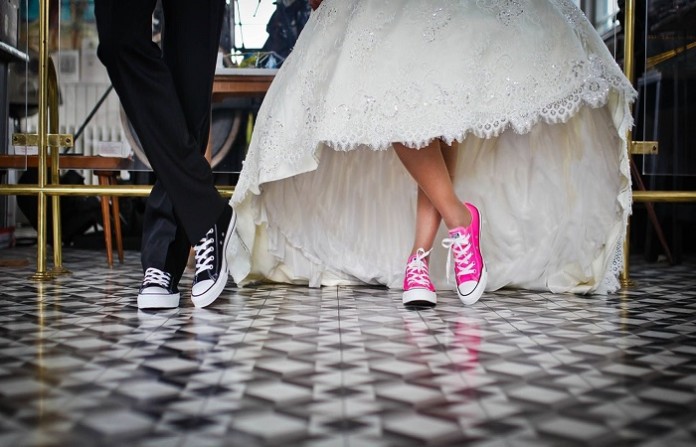 Play with balloons
A number of balloons (say 20) are inflated, in which pre-printed notes with various promises are placed. By ballooning, the newlyweds read each other's promises that they must follow in their future family life.
I promise every morning to wake you up with a kiss.
I promise to leave you alone when watching your favorite series.
I promise to take you to the sea every year.

Wedding Bouquet
If you want to enjoy more of your girlfriends, you can order a seemingly standard wedding bouquet that differs in that it drops into 3 pieces at the very throw. In this case, there will be more happy ladies. And definitely, the surprise and joy will be three times greater.

Dance on a newspaper
This game is very good for cheering the guests.
Several young couples from the bride and groom's side are invited to the dance floor. Take a newspaper and unfold to each pair. Then music is played and couples have to start dancing. After the first piece, the newspaper folds in two and the music continues. The goal of each pair is to keep dancing, but without going out of the newspaper. So, the newspaper continues to fold until there is a small piece of newspaper on which the dances should continue. In the final straight many of the pairs begin to wear on their hands so they can stay on the rest of the track.
The game is very entertaining and brings a lot of good moods, because, after the fourth song, most ladies are in the hands of their partners who try to dance without going out of line. The pair that lasts will win.
A game for the friends of the newlyweds
Depending on the preference of the newlyweds, 12 couples or just 12 chosen guests can come out on the dance floor. Pre-prepare two separate cups, each containing 12 sheets. One has written the twelve months of the year, and in the other – the actions that will have to be fulfilled. The players in the game first draw one cup, reporting the withdrawn month, then pulling from the other bowl, reading the action they must perform exactly the same month. Example: "In February" "We have to go to a bar". And so, the game will last for twelve months.
There are so many interesting things that you can incorporate into your wedding, that will make it unusual, interesting and fun. No one likes to sit all night long at a boring wedding that does not have anything interesting. Remember that you are not a slave to anyone and you have the right to say what you do not like and want.
We are also available on WeddingWire and make sure you contact us and ask us everything you need to know.